Whatsapp Upi Cashback Offer
Hello Everyone I hope Your Good And enjoying, I Come With A New And Interesting Offer Today In This Post I  Will Come With  New Interesting Offer Basically This Offer Is Coming From whatsapp App And Get Upto 250 Cashback
WhatsApp launched its UPI based payment service in India only last month. Gradually all the users are getting the update of WhatsApp Pay. WhatsApp Pay has a tough competition with Google Pay and PhonePe in the Indian market and the company is also trying the same level to capture the market. To woo Indian customers, the company has started the Upi cashback offer, which is the biggest UPI cashback offer ever. Let's know about it…
WhatsApp UPI Send Money Offer
According to a Business Insider report, WhatsApp Android beta users are seeing a banner with Give cash, get ₹ 51 Cashback (Give cash and get Rs 51) in the chat list. It is also written along with the banner that every time you send money through WhatsApp Pay for five times, you will get a cashback of Rs 51 i.e. a total cashback of Rs 255.
WhatsApp UPI Send Money Offer Send Rs.1 & Get Rs.51 Cashback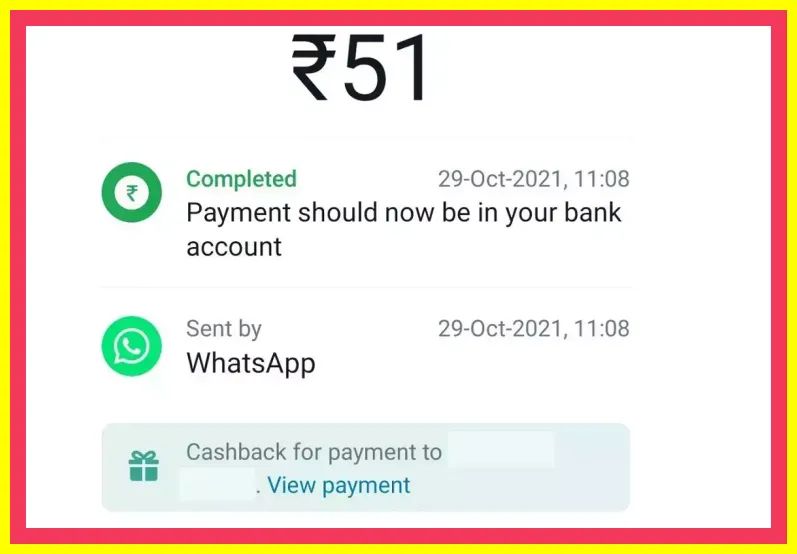 WhatsApp has not told how much money you will get a cashback of Rs 51 for sending. In such a situation, it is possible that even after sending ₹1 rupee, you can get a cashback of Rs 51. Cashback will be credited to your respective UPI account instantly. WhatsApp has clearly said that this cashback will be available with guarantee.
Now one problem here is that the Rs.51 cashback offer is currently only for beta users of WhatsApp Android. In such a situation, other customers will not get the benefit of it. Up to Rs 1,000 cashback is also available on Google Pay, although till now hardly any customer has got cashback of Rs 1,000. Usually cashback of Rs 3, Rs 5 and Rs 7 is available.
A report a few days ago said that customers will get a cashback of Rs 10 every time they pay through WhatsApp Pay. A new pay button has also been added to the chat section of the WhatsApp app, which looks like a rupee symbol. The new button has become available in the app for both beta and public users. Also, its update has been received by both Android and iOS users.