West Bengal Police Sub Inspector Qualification
---
This Report Discusses The Details Of Becoming A Sub Inspector In Bengal.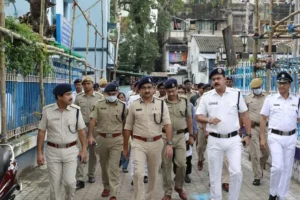 There is a lot of demand for the post of Police Sub Inspector in West Bengal. But many are not aware of the exact qualifications required to work in this department or how to apply. This report discusses the details of becoming a Sub Inspector in Bengal.
Eligibility
Eligibility required for candidate to apply for SI post is discussed below.
Educational Qualification
Graduation in any discipline from a UGC recognized university. Candidate must be aware of general knowledge. The thinking power of the candidate should be very sharp. Candidates who are studying in their third year of graduation or have just passed their graduation can also apply for the SI exam.
Candidate must have Indian Citizenship Identity Card.
Age Limit
Candidates age should be between 20 to 27 years. 3 years relaxation for OBC candidates. And 5 years relaxation in case of ST, SC candidates. And candidates who are already serving in police department can apply for SI post up to 35 years based on merit.
Physical Criteria:
Candidates belonging to Gorkha, Rajvanshi, Garhwali category in unarmed branch of SI category should have height of 160 cm. Candidate weight should be 52 kg. All other category candidates height requirement is 167 cm. And candidate weight should be 60 kg. In case of Armed Branch, candidates belonging to Gorkha, Rajvanshi, Garhwali category should have a height of 173 cm. Candidate weight should be 54 kg. Height of candidates for all other categories is fixed at 163 cm. Candidate weight should be 60 kg.
Exam Pattern:
Basically the exam is conducted in four parts.
Preliminary Test:
Written or Computer Based (CBT) This test is conducted in MCQ (Motivational Structure Questionnaire) structure. There is a total of 200 marks in the exam. Time limit is 90 minutes. Each correct answer carries 2 marks. And for each wrong answer one fourth mark is deducted from the respective marks obtained.
General Studies subject carries 50 questions of total 100 marks.
Numerical and Mental Ability Test carries 25 questions of total 50 marks. And in Elementary Mathematics 25 questions carry a total of 50 marks.
Candidates must review West Bengal Police SI Exam Syllabus completely and prepare properly. Candidates have to secure minimum number of marks required to clear preliminary examination and proceed for next level selection.
Physical Criteria (PMT) and Proficiency (PET) Tests:
First candidate has to clear PMT exam as per West Bengal Police Recruitment Board rules. After clearing this section the candidate has to take the PET exam. In the PET examination, candidates applying for the post of female SI have to run 400 meters in 2 minutes and candidates applying for the post of male SI have to run 800 meters in 3 minutes.
Final Combined Competitive Examination:
After clearing the PMT and PET examination candidates have to clear the final combined competitive examination to proceed to the next stage.
This exam is conducted in four parts with a total of 200 marks. Total duration is 4 hours. And the examination of each paper is organized on the same day. First the paper consists of questions on General Studies and Arithmetic. 2 hour exam of 100 marks.
Paper 2 has 1 hour time limit for 50 marks paper on English subject.
Paper 3 has a time limit of 1 hour for 50 marks on Bengali, Hindi, Nepali subjects. Candidates have to take this test by choosing any one language.
Personality Test
This is the highest stage of SI selection. At this stage personality test has to be given as per West Bengal Police Recruitment Board rules. Candidates must secure minimum 8 marks out of 30 to pass this exam. Besides, the candidate's documents are also verified at this stage. After successfully clearing all the stages of the SI exam organized by the West Bengal Police Recruitment Board, the merit based selection process starts.
Salary
The annual salary package of Police Sub Inspector depends on the position of the candidate. An SI has an annual salary of around 4 lakhs to 5 lakhs. Apart from this, SI officers can enjoy additional allowances and benefits. Although this facility starts after 2 years of appointment as Sub Inspector.
Application Process: https://wbpolice.gov.in/ Vacancy notification is published on this official website. Candidates can apply for the post of SI through online from the official website after publication of notification.